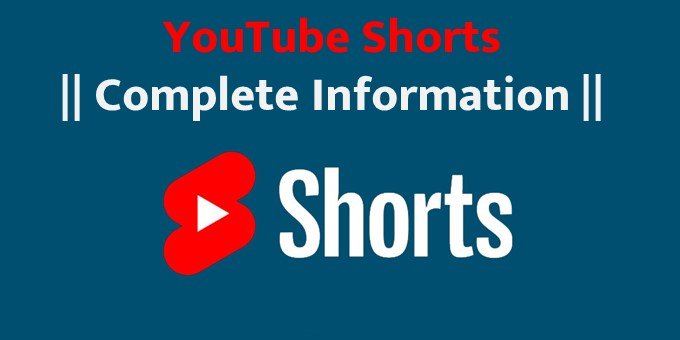 YouTube Shorts || Complete Information || People do not know much about YouTube Short as it has been launched recently. The feature of YouTube Short is exactly like Tiktok where you can create short videos of 15 seconds and share them with people. Many video effects have been given to make videos on YouTube Shorts, using which you can give a professional look to your videos.
What is YouTube Shorts
YouTube Shorts is a new feature of YouTube after the shutdown of Tiktok. Using which you can upload and create short videos on YouTube channel. Ever since Tiktok has been banned in India, many short video app lunches have come among the people on the internet. But recently YouTube has also launched its short video feature, which is named YouTube Shorts. And you will get to see this feature in the YouTube app itself.
Play Store App :- Download
How To Make Videos With YouTube Shorts
If you want to use YouTube Shorts then you have to update YouTube app in your mobile. Only after that you will be able to use this new feature of YouTube. It is very easy to record videos on YouTube short but some people on the internet do not know very well how to make YouTube short videos. So let us tell you step by step.
Step-1. First of all open YouTube app on your phone.
Step-2. After that click on the plus button in the screen below.
Step-3. Now three options will appear in front of you, in which you click on the option of Create a short.
Step-4. Now the camera of your phone will be open to record the video.
Step-5. Now record your own video. After recording the video, you can add music to it. You can also edit the video. For which many effects, filters and speed options have been given.

Audio – After recording the video, if you want to add a song or any dialogue to your video, then you can select the audio according to you by clicking on the audio.
Flip Camera- Through this option you can change front or back camera in your phone.
Speed ​​- You can slow down or speed up your video by clicking on speed option.
Filters – You can apply filters to your videos to make the video look attractive.

Step-6 – After recording and editing the video well, write the title and description of your video and then upload it to your YouTube channel.
Features of YouTube Shorts
YouTube Shorts is currently available to the public in beta, so very few features have been enabled in it. Because the developer is still working on the rest of the features of YouTube Short. So right now you will get very few features to use in it.
1. It has a multi-segment camera feature, so you can combine multiple video clips at once.
2. You can add any music from your phone library after recording the video.
3. You can use timer and countdown to record video.
4. After making video you can apply slow motion effect on your video.
Friends, it is very important for you to have a YouTube account to make YouTube short videos. Because whatever video you upload on short YouTube, it is uploaded on your channel. So if you do not have a YouTube account, then first create your YouTube channel or YouTube account.
Read This In  Hindi: Click Here
Conclusion – So friends, today in this article we told you "What is YouTube Shorts", we hope that you must have understood all the information related to YouTube Shorts very well. If you have any question or suggestion, then do let us know by commenting below. Do share this post with your family and friends. Thank you..!!
Source