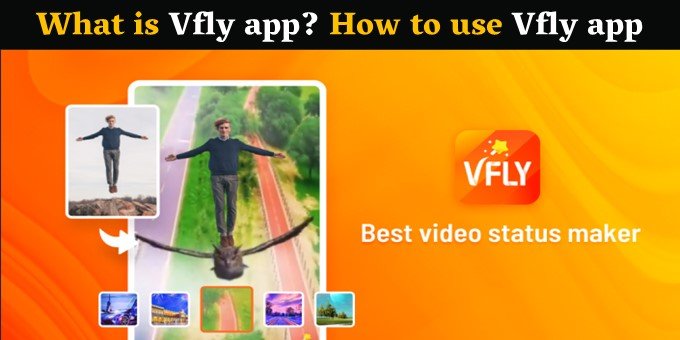 What is Vfly app? how to use Vfly app || Vfly app is a free status video maker app through which we can create magically status video, in This App we are given many types of magical backgrounds, using which we can create status videos, also using photos in this video can be made. And you can also change the background of the photo. And in this way you can apply and share whatsapp status by making status video in vfly app. In This app we can also make live wallpaper of video.
What is Vfly app? how to use vfly app
First of all, download the Vfly App by going to the Play store or download it directly from the link given below.
After installing the app first, open it.
After the fly app is open we get the home page. In which magic video or magic picture options are given above.
And below are some video temples that walk in trend. By clicking on which you can make a video.
What kind of video do we want to make like- Magic Cut, Love, I Love Dad, Photo Art, Name, Birthday, Magical, God, Greeting, Funny, MV You can choose any of these effects to make a video.
 Play Store App :- Download
How to make video in Vfly App
To make a video in Vfly app, follow some steps given below-
step 1. To make a video with This App, first click on one of the videos below.
Step-2. Now click on start making to make the video.
Step-3. Now after this we want to give text also in your text, we can give.
Step-4. And you can add image to replace photo.
Step-5. In Change Music, you can apply music to the video.
Step-6. And then click on Make button. In which after some loading, we get a page to save.
Step-7. You can post the video made in it anywhere and also make the video live wallpaper.
How to make your own video in Vfly App:-
In this app we can create video musically, in which now we click on a video of a given template and add photo, music and text to make a video like that.
Now we can make your video, who make video in tiktok, like, comment, similarly we can also make video in This app like video, comment and download.
For this, first we come to the home page, after that –
Click on its camera option.
In this, the record button is tapped, which starts the video recording.
In video, we can also apply music from selected music from above.
And you can also use the props stickers below in the video.
We can also upload any video from gallery via local.
There are some options in the top right, in which the camera can be rotated back and forth.
And the speed of the video can be increased or decreased according to the speed.
Video settings can also be done.
You can use the Beautify option to make the video even more impressive.
Video can be made by flashing on the camera through flash.
Post a video with a title now.
You can also make a live wallpaper of the video made in it.
Read This In  Hindi: Click Here
Conclusion: So friends, in today's post, What is Vfly app. Learn about how to use vfly app. If you have any question or difficulty with making your own video or Vfly app, then definitely tell us in the comment box below. If you liked this article of ours, then definitely share it with your friends.Thanks..!!
Source