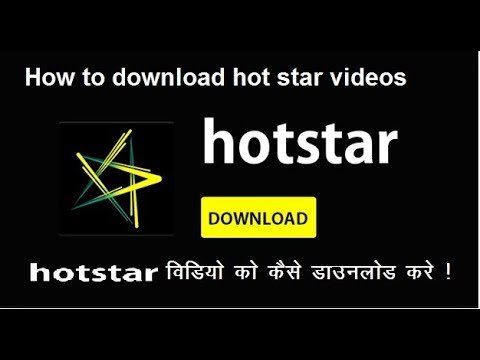 What is Hotstar | How To Use It – Hotstar is a digital entertainment platform. Which is used for watching online TV, movie, live match, serial, news. And Video-on-Demand and Live Streaming Services are also provided.
Hotstar was launched on 6 February 2015. It was first started for live streaming of Cricket World Cup on Android platform. However, today it is available on Android, iOS, Fire TV, Apple TV and Web (as a website) platform in addition to Android. And are entertaining people in 9 languages.
Hotstar Features 
Apart from live match streaming on Hotstar, other services are also provided. Which are being mentioned below.
Video-on-Demand – This feature of mobile entertainment is a trump card. Through this service, you can watch videos of your choice and choice at any time. And you can choose movies, video songs, album videos, etc.
Live Streaming – Now you don't need to sit in front of TV for hours to watch live matches. Because through the live streaming service of Hotstar, you can watch cricket matches, IPL 2019 Live and new sports only through mobile. And you can enjoy live matches as per your convenience
TV Channels – On Hotstar, you also get to see all the TV channels available on the Star Network. So you can watch any particular channel. Here you can enjoy all the channels of Life OK, Star World, HBO, Show TIME, Star Bharat, National Geographic, Star Utsav, Star Sports Series.
Advantage of Hotstar ( Hotstar Ke Fayde )
Hotstar makes you a happier experience than TV and you can use it whenever you want, as per your convenience. Its special feature makes it different from TV. Some of its benefits are being explained below.
Your control – Hotstar remains completely under your control. And what you will see is your own decision. Hotstar does not control you in this matter. You can also pause a program and go for a walk outside. And you can come and see it from there. Also, you can enjoy streaming live on the go, eat and talk.
Easy to use – Hotstar is very easy to operate and control. The way you use other applications. In the same way it is also used.
No hardware required – A TV, cable, setup-box, etc., are required to watch TV. Then you get to see entertainment on TV. But no type of frills are required to use Hotstar. You can use it from smartphone only.
Cheaper than TV – you save the cost of hardware directly. Also, its premium plan is also much cheaper than TV.
Available in local language – Hotstar is currently offering services in 9 languages. In addition to Hindi, English, Bangla, Telugu, Malayalam, Tamil Marathi, Kannada and Gujarati are included.
How to use Hotstar ( Hotstar ko kaise use kare )
Hotstar can be used through its website and mobile application. If you want to run Hotstar on a computer, then its web version is a better way for you. And for mobile you can download its mobile application.
Step-1: For computers or laptops, visit Hotstar.com at this URL.
Step-2: And for Android, you can download its Android or iOS mobile application. Because its Hotstar Android App and Hotstar iOS App are available for mobile.
📲 Play Store App :- Download
Conclusion:-  In this article, we have given you complete information about Hotstar. Did you know what Hotstar is and how to use it? Also, some benefits and features have to be known. We hope that this article will prove useful to you.