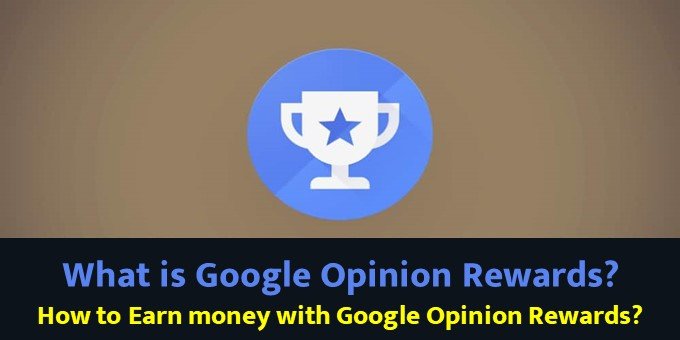 What is Google Opinion Rewards || How to Earn money with this || Friends, in today's post we are going to know what is Google Opinion Rewards and using it you can download many e-books, paid apps and movies from Google Play Store for free. Along with this, any paid service of Google can be accessed without any money. So let's know what is Opinion Rewards and how you can use it to earn money-
What is Google Opinion Rewards
Opinion  means your opinion about any product or service and Rewards means reward google give rewards against your opinion. Thus Google Opinion Rewards means in simple language – "You give your opinion to Google and in return Google will give you some reward."
How do you make money from Opinion Rewards?
Now perhaps the question arising in the mind of many of you is that what kind of opinion do we have to give to Google? And why does a company like Google need our opinion?
So look, Google is a company whose entire business is based on advertisements, that is, in simple words, Google earns the most money from advertisements.
Now to show good ads, Google should have accurate information about your likes and dislikes, then only they can show you good ads. That is, if a person likes books, then he should show the advertisement of books only; He might even buy those books. It should not happen that a person has nothing to do with distant fashion and you are showing him only fashion advertisements !! By doing this the chances of sale of goods will be negligible.
Now Google, through its Opinion Rewards, gives you some Google Purchasing Credits and asks you some simple questions of personal likes and dislikes, which you have to answer correctly, because the kind of answer you give, the same type of ads will give you. All Google services (YouTube, Gmail and websites) will be able to see.
3) How to use Google Opinion Rewards?
[A] How to create Google Opinion Rewards account?
1. First of all you have to download Google Opinion Rewards from Play Store.
Play Store App :- Download
2. After installing it, when you open Opinion Rewards, some instructions come in front of you. You have to stop reading them and keep doing DONE at the end.
3. After this the Gmail IDs that are open in your phone are visible in front of you. Out of which you have to select any one ID.
4. Google then asks some questions to get some personal information about you. For example, do you accept the term and condition? (I understand); your gender; Ages; Postal code (PIN), languages, annual average income. You have to fill in all the correct answers.
5. After this you see the Dashboard of Opinion Rewards where you see ₹ 0.00 written.
6. After this you have to go to the blue color ANSWER SURVEY link given above. Then here are some questions which you have to answer to know your opinion on international issues.
7. As soon as the survey is over, you get some Play credits in your Google account, which you can spend to buy any paid service from Google Play Store.
[B]How to use Google Opinion Rewards and spend your Play Credit
1. The first survey is not personal.. After this, all the surveys that come to you are either personal or are related to the places where you have ever been. (Ex. restaurant, picnic spot, college)
2. There is no fixed time for the survey to arrive. They can come anytime. If you keep your phone's location on, the chances of getting a survey are high.
3. Answer the questions asked in the survey correctly. You may get less credit if the answer is wrong.
4. You can buy any paid item from play-store for free within 1 year by collecting the credits from the survey. Remember that your credits automatically expire after one year.
Read This In  Hindi: Click Here
Conclusion: So friends this was our today's post "What is Google Opinion Rewards || How to Earn Money with this", which people use, these apps are used more in cities. I hope you must have liked this post. If there is any problem in signing up the account in any app, then you can ask in the comment box, we will definitely help you.
Source