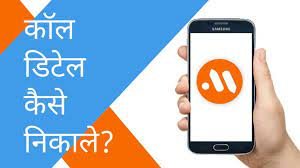 How To Use Mubble App – Mubble App is an Android application using which you can remove the call details of your phone, in this you can remove the call Detail of any Sim like- IDea, Airtel, Vodafone, Jio, Bsnl etc. To remove every person's call Detail Neither are there any reasons. Mubble App gives you full control over your Prepaid Sim.
But this method will only work when you remove Call Detail from the phone from which the call has been made. Apart from this, if there is a number whose Call Detail you want to remove, then for this you can help by calling Customer Care.
Main Features Of Mubble App Ke (Mubble App Ke Features)
See balance
In this, you can see your balance anywhere, anytime like – Updated Balance, Continue Tracking of Mobile Data, and check your Operator's Balance in one tap.
Get Low Data Balance Reminder
When your data balance is low then it reminds you that your data balance is low so that you can recharge the data on time.
Get Latest Recharge Plans
You always get the latest information in the Mubble Update Plan.
Manage All Packs
Mubble tracks your Voice and Sms Recharge and reminds you when your pack is about to expire.
Get Prepaid Detail
When you install Mubble, it gives you complete details of all the calls made and also you can know about your call rate, cost per call and the money Spent on Top Contacts.
Save Data
Mubble carefully tracks your data and tells you that no app has stolen your data.
Track All Operator
Mubble supports all mobile prepaid operators in India like Airtel, IDea, Jio, Bsnl, Vodafone etc.
How To Use Mubble App ( Mubble App Kaise Use Kare)
Open Mubble App
First of all, open the Mubble App after downloading and installing it in your phone.
Select Language
As soon as you open it in your phone, then it will ask you to select the language, select your language.
Give Permission
After selecting the language, you will have Page Open of Give Permission in front of you and click on it.
Verify Your Number
Now the page of Verify Your Number will be open in front of you, here you have to enter your mobile number, then click on Verify, now an Otp will come to your number, enter it and Verify your number.
Add Email ID
When the number is verified from your given Otp, then you will have to add your email ID in the next step. After that you will see the option of Give Permission on the next page, you have to click on it.
Mubble Balance Checker
In the option of accessibility, you will see the option of Mubble Balance Checker, turn it on.
Click on bill
Now you will have a new page open in front of you, where you have to click on the bill.
Give Bill My Email
Clicking on Bill will open the Option for Details Bills, in which how many days Call Detail you need, select it and then click on Give Bill My Email.
Get bill
After this Mubble will ask for Confirmation from you again, in which you have to click on Get Bill.
Open Email
Now open your email ID, you will get a mail of call details from Mubble on your email ID and along with it will be a Pdf Attachment, download it and open it, you will get complete call details in it.
In this, there are all the details like Call Number, Date and Time etc. From the Mubble App, users can remove call details ranging from 7 days to 30 days. Now we have told about the use of Mubble, so let us tell you about the benefits of Mubble App.
Benefits of Mubble App (Mubble App Ke Fayde)
➥If you accidentally delete Call Details in your mobile, then you can get Call Details with the help of Mubble.
➥In this, you can check your update balance and data in your mobile anytime and anywhere.
➥ It tells Timer on the Caller Screen so that the user can know how much time has elapsed since the call was received.
➥ In this, you can get the details of all the previously made calls with just one click.
➥ In Mubble, you can search about any Mobile Operator and Landline Number in India.
 Play Store App :- Download
Read This In  Hindi: Click Here
Conclusion:- Today in this post of news.technogreet.com we learned what is mubble app, how to get someone's call details, how to get someone's call history, how to use mubble app, what is mubble app recharge plan, how to install mubble app, Call Details Kaise Nikale, I Hope you liked today's post.