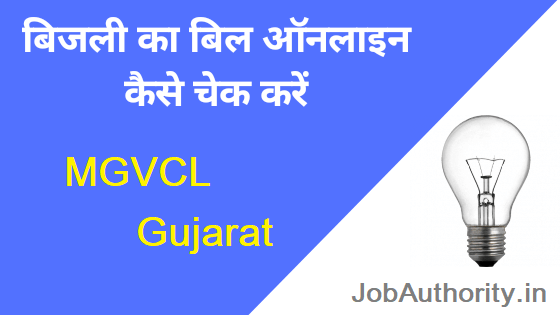 How to Pay MGVCL Electricity Bill Online l Check Your Bill Now – The power companies that supply electricity to the state of Gujarat have made their services online. One of these services is Gujrat Electricity Bill. Now the citizens of Gujarat state can easily check the electricity bill of their homes, farms etc. online with the help of their smartphone.
To view MGVCL Electricity Bill online, you have to keep some documents with you with the help of which anyone can check MGVCL electricity bill online. If you do not have all these documents, then you will not be able to check MGVCL Electricity Bill.
Electricity consumers will need consumer code or consumer number to check Gujarat electricity bill online.
⚡ How to check MGVCL bill Online
➥ Go to MGVCL Official Website – Click Here
➥ Enter Your 11 Digit MGVCL consumer number
➥ You Can View Your Name & Address
➥ View Your Last Bill Date,Due Date, Bill Amount
➥ Click On Download Bill
View Your MGVCL Bill: Click Here 
Read This In  Hindi: Click Here
Pay Your Electricity Bill online
How to Pay Bill Via Quick Payment Portal
Go to MGVCL Quick Pay Portal – Click Here
Search in with the Consumer No.
Verify Payment Detail and process further by clicking on the Pay Now button.
Quick Online Pay screen will be redirected to Payment Gateway.
After completion of payment, Payment Acknowledgement will be displayed.
You may take a print-out of the payment acknowledgement by clicking on the Print button.
Quick Pay Online Bill :Click Here
You can also check MGVCL Electricity Bill by visiting the official website of the companies supplying electricity in the state of Gujarat. Therefore, firstly we are going to tell you about the way to check MGVCL Electricity bill online by visiting the official website of MGVCL Electricity supply companies. You can also check the electricity bill online, by visiting the official website of Gujarat power supply companies.
Also Check Gujarat Other Vij Company Bill Pay