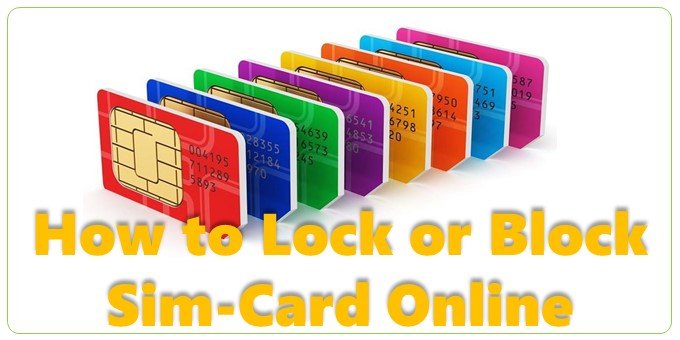 How to Lock or Block Sim Online Complete information: When the phone is stolen, the first thing we should do is to lock the SIM as soon as possible. Some important documents are asked from you while taking the SIM so that our mobile number is registered in our name only. If the SIM is stolen, then someone can blackmail someone with your number, so if the victim complains on your number, then the police will find you first. I mean to say that if someone stole your SIM, then you can turn it off or block it if you want, so let's know how to turn off or block SIM.
Today what I am going to tell you through this post will definitely be beneficial for you because today I am going to tell you how to turn off sim, maybe your friend needs it then you can help them. can. I want to tell for your information that this post is for all telecom companies (Jio, Airtel, Aircel, Vodafone, Idea, Tata Docomo, Videocon, Reliance, MTNL, MTS, BSNL), so you can use any company's SIM only five can be used for. Minute. You can be locked or blocked from inside with the help of this post of ours.
If you want to get your number switched off, then you must keep your documents / photo ID before that. You have to keep the same document with which your SIM is registered, we will read the rest of the process after the start of the post.
How to Lock or Block Sim Online
Friends, now the time has come that how to turn off or block the sim? Look, I will tell you two ways to turn off the SIM, whichever method you like, you can get the SIM turned off in that way. In the first method, we will learn how to switch off the SIM with the help of customer care and this method is considered to be the easiest. But if for some reason you are not able to talk to the customer care or the SIM is not turning off even after complaining, then you can use another method.
1: With the help of customer care
1) First of all you should have sim of the same company whose sim you want to lock, maybe you don't have sim of that company but if your friend has then ask them for help. If you have the SIM you want to turn off, then call your customer care with the same SIM. For this you can call on 198.
2) Follow the instructions on the phone to speak to the customer care officer.
3) When you talk to the customer care officer, tell them that you want to switch off your SIM, after that they can ask you the reason for this, give them the proper reason. If you call from your friend's number or any of your other number, you will need to specify your number which you want to stop.
4) Now they will know whether you are the real owner of that SIM or not, for this they will ask you some important questions like your name, address etc. Remember that the information you have given must be absolutely correct.
5) If the information provided by you matches with the information of the SIM, then within a few hours your SIM will be switched off, for more details contact your customer care.
2: Costumer Care Center
If you don't like our first method, then no problem, we have come up with another method for you, in this method you have to go to the nearest service center of your telecom operator and tell them that you want to turn off your sim. The service center officer will ask you for the photocopy of the sim document, when you give them the required documents, your sim will be switched off within a few minutes.
How to get back old mobile number:
Many times it happens that we do not want to lose our old number because many of our clients and relatives have the same number. So you can get your old number back if you want, even if you have blocked that sim, you can get that number again, it's very easy, do you know how? All you have to do is visit the nearest service center of your SIM operator, but remember that you will need to carry the same document/photo ID with which the SIM is registered. When you authenticate that the number is yours, you are given a new SIM on the same number.
Read This In  Hindi: Click Here
Conclusion: So friends, today you know from this post "How to Lock or Block Sim Online". It is very easy to do but many people are not aware about it. Not only this, I also told you in this post that how to get a new SIM of the old number, it will also prove to be very beneficial for you. I hope you liked this post of ours and don't forget to share it with your friends. If you have any question or suggestion, then do let us know in the comments. Thank You..!!
Source